Profile and Background
Chantiers Chibougamau Ltée is a Québec-based family business founded in 1961. Its main industrial complex, located in Chibougamau in Northern Québec, has one of the largest sawmills in the province and one of the largest engineered wood manufacturing plants in the world, producing I-joists, glue-laminated timber and cross-laminated timber all bearing the "Nordic Structures" label.
The company also owns another sawmill, Scierie Landrienne, in Landrienne, Abitibi-Témiscamingue. Like the facility in Chibougamau, this mill is based on the integrated management of raw material harvested in the forest, while more than a quarter of its lumber production is used to manufacture engineered products in Chibougamau.
The marketing of engineered products, the technical services that support them, the development of the structural systems that use them, and the design and management of construction projects using solid wood materials - glulam and cross-laminated - are all deployed within the Montreal-based Nordic Structures business unit. To date, the Nordic Structures team has been involved in more than 3,000 solid wood construction projects, mostly across North America.
Additionally, Nordic Kraft, a subsidiary in which Investissement Québec is a minority shareholder, operates a kraft pulp mill in Lebel-sur-Quévillon, Northern Québec. This plant manufactures a strategic input for tissue products (toilet paper) and recyclable and compostable food packaging, among other items, in addition to generating more than 35 megawatts of renewable energy from forest biomass. This plant, reactivated in 2020 after more than 15 years of disuse, plays a key role in the consuming sawmill by-products – wood chips and bark – for the stability of the entire Quebec lumber industry.
The demand for the most efficient automation technologies and a strong culture of competitiveness and optimization have fuelled the company's growth since the 1970s. In 2009, it became the first private company to meet the Forest Stewardship Council (FSC) Boreal Standard, while life cycle and carbon-neutrality issues have been driving strategies for close to 15 years.
The company, fully integrated from the forest to numerous domestic and international market segments, harvests and processes the equivalent of 15 % of the renewable resources of Québec's public forest and employs more than 1,500 people in its various business units.
Chantiers Chibougamau
A Vital Partnership
For over 50 years, Chantiers Chibougamau has man­ufactured and marketed highly competitive forest products that are tailored to consumers' increasing concern for sustainability. Always at the forefront of wood processing technology, and with more than 600 employees in the northern Quebec region, the company values the resources of the boreal forest and offers its customers superior products accredited by leading certification agencies.
Chantiers Chibougamau Ltd. (CCL) was created to harvest wood for the local mining industry


Chantiers Chibougamau began manufacturing timber products from the wood it harvested. The company had five employees at the time, and its main customers in the booming mining region of northern Quebec were the mines.
'70-80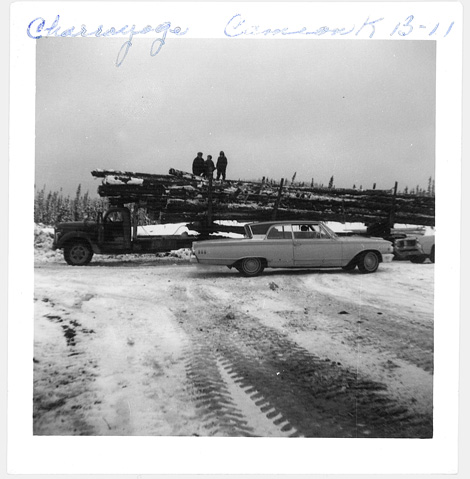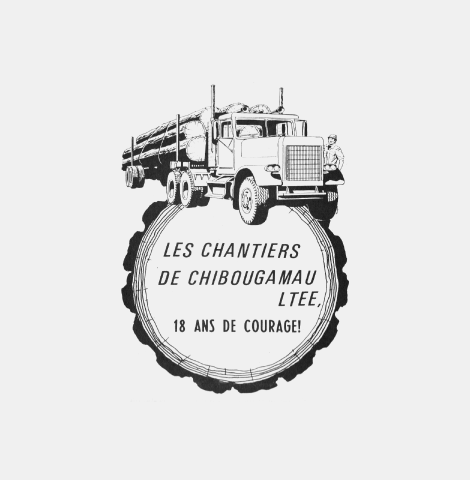 Timber manufacturing developed in step with the construction industry, a constantly evolving market.
The company implemented its first automated production systems as it sought to target the export market.
Late 1980s

Chantiers Chibougamau emerged as a flagship of the Quebec forest product industry.
The company doubled its production capacity and improved its sawing methods by adapting existing technologies to its main supply source: small black spruce.
1994
CCL added dry kilns and optimized its production with the implementation of finger-joint technology.
The company then had six low-pressure kilns and two high-temperature kilns able to dry up to 566,000 m3 of timber a year.
1998
CCL continued to invest in emerging developments, adding hewsaw technology.
The plant integrated digital technology with the addition of computerized equipment optimization and control systems making it possible to saw round logs using cutting patterns that maximized the wood's value.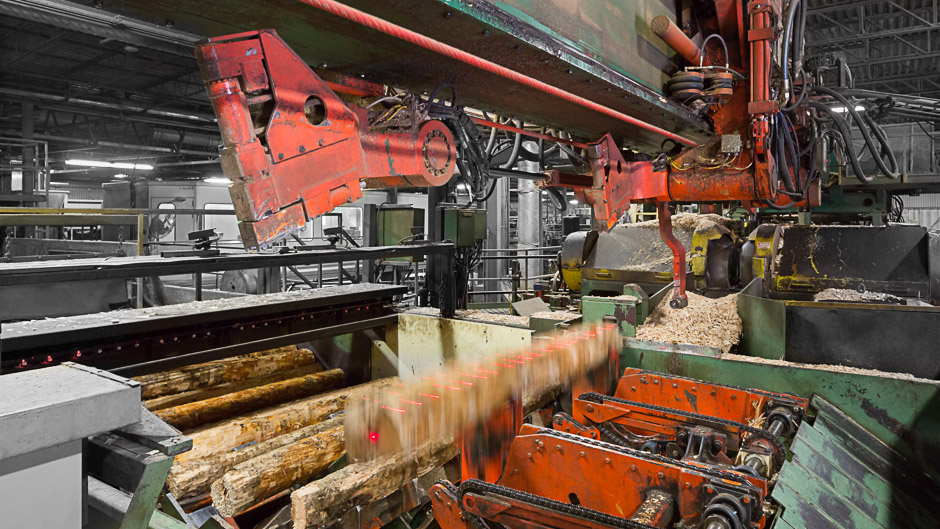 Late 1990s
Optimized fiber production with the addition of finger-jointed flange production lines, then I-joists in 1999.
By adopting finger-joint technology, the company could then use short lengths of lumber to create pieces much longer than conventional dimensions. This made it possible to produce I-joists up to 48' in length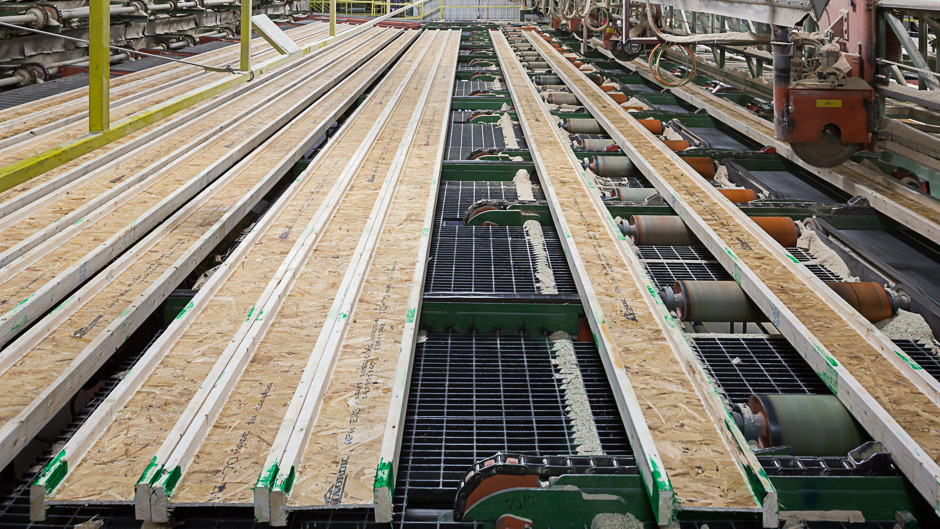 2000
Developed the ENVIRO-LAM process to make use of previously underutilized wood.
The exclusive ENVIRO-LAM process elevated wood optimization to an unparalleled level by making it possible to utilize log segments too small to be processed by conventional means. Before ENVIRO-LAM, tree tops and side cuts had been underutilized or simply left on the forest floor as waste.
The company opened Nordic Engineered Wood in Montreal (now called Nordic Structures) and had 500 employees.
2007
Development of the NI-90x series of I-joists manufactured from glulam.
Chantiers Chibougamau now manufactured an I-joist with flanges made out of glulam. This high-efficiency product is particularly well suited to the residential market. And it received the "Coup de cœur" distinction at the ConTech Building Events trade show for its variety of potential applications.
2009
The company received Forest Stewardship Council (FSC) forest management and chain of custody certifications.
In addition to the FSC certifications, the company took steps to reduce the amount of public land it needed to maintain production volume, cutting requirements by 19% in 7 years. Chantiers Chibougamau runs an efficient operation.
2010
Chantiers Chibougamau expanded its production facility and invested close to $10 million to introduce an innovative system for building multistory wood buildings.
With its strong commitment to staying at the cutting edge of wood technology, Chantiers Chibougamau invested in a production line for cross-laminated panels—a product giving steel and concrete a real run for its money. This system boosts the use and reputation of wood, opening up new horizons for the company.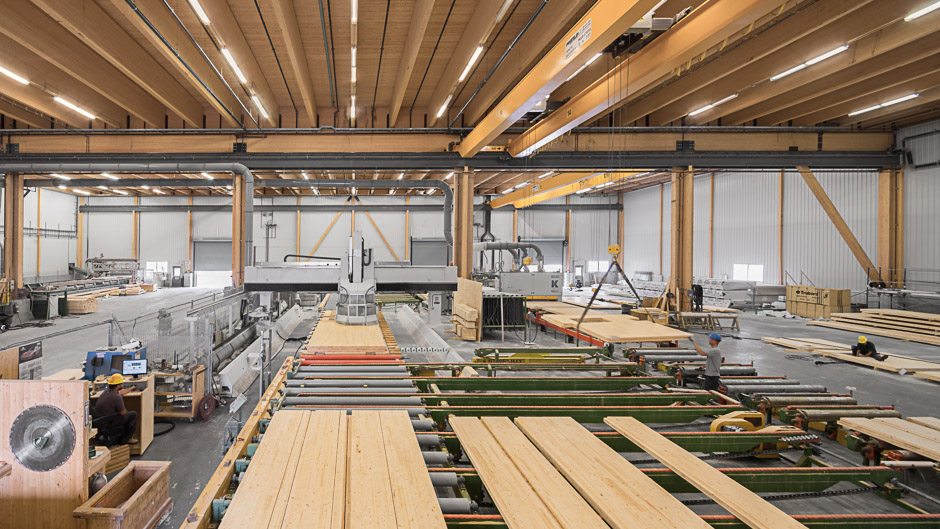 2011
CCL added cross-laminated timber (or CLT) to its product lineup.
Chantiers Chibougamau became North America's first manufacturer of cross-laminated panels. The new system sparked a lot of interest in wood construction and shook up the market. The company, now with a team over 600 strong, celebrated its 50th anniversary, marking a half century of innovation and success.
2014
Supported the development of a project to design and construct a 12-storey solid wood building in Quebec City's Pointe-aux-Lièvres green neighborhood.
Chantiers Chibougamau, driven by its conviction and belief in black spruce's potential as a wood construction material, is determined to manufacture wood products for use in applications typically dominated by other species. The company strives to think outside the box and change the way people think about wood.
2015
Today Chantiers Chibougamau is considered one of North America's top manufacturers of I-joists, glued-laminated timber, and cross-laminated timber. Its products are increasingly popular in the construction market. Their quality, reputation, and competitiveness continue to grow.
By staying true to the nature of its products, pushing the limits of wood, continuously innovating, and putting its employees' expertise to best use, Chantiers Chibougamau has forged a reputation as a North American leader in the manufacture and processing of wood.
Innovation to Build On
Nordic Structures, leader in sustainable wood solutions
Nordic Structures is the leading innovator in engineered wood products and mass timber construction. Its resource comes from responsibly managed lands within the regional boreal forest. Vertical integration, from forest to structure, bolstered by Nordic's experienced design and development team, ensures consistent quality and unparalleled level of service.