Black Spruce's Unique Fiber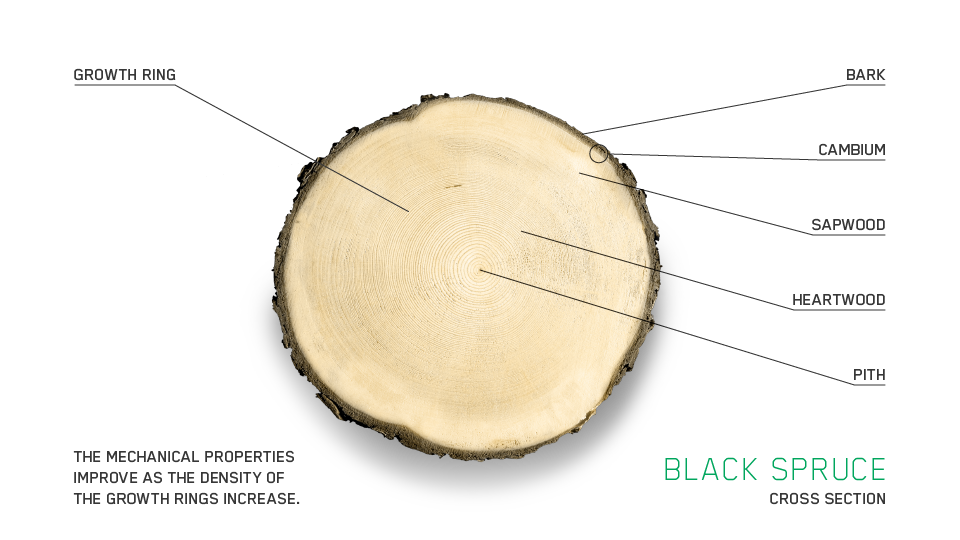 Black spruce (Picea mariana), the symbol of the boreal forest, can thrive up to the edge of the tundra. It is a coniferous species able to withstand some of the harshest climates anywhere. This generous resource, which is found only in North America, boasts an astonishing rate of renewal. The northern Quebec climate makes the black spruce a dense and heavy-duty material ideal for structural applications in the construction market.
Black spruce is the most sought-after structural timber in the construction industry due to its superior mechanical and environmental properties. It is known for its straight lines, durability, light weight, and dimensional stability, as well as its unparalleled fiber density, resistance to fire, and thermal insulation. It's easy to see why this amazing material is so prized by builders.
---
Optimized production in harmony with the resource
With our years of experience in the heart of the boreal forest, the production methods we have developed at Chantiers Chibougamau are in perfect harmony with the resource. The result is outstanding wood processing and product manufacturing performance. For instance, black spruce is harvested at between 80 and 120 years of age when the trees are still very small in diameter, so we have optimized our methods to produce strips in as small as 25 x 50 mm (1 x 2 in.).
This allows us to use every part of the tree in production, including tree tops and side cuts—a sizeable volume of mechanically strong timber that used to go unused. This allows us to harvest younger trees and has improved our overall management of the entire forest.
Our most common glued laminated wood, which is 24f-ES/NPG grade certified by APA (The Engineered Wood Association), boasts mechanical strength superior to other stress grades of conventional Canadian wood. Our wood is harder to bend, shear, or compress than any other standardized Canadian wood, making for smaller structural elements that are a product of choice on any type of project.
Black spruce is more than just a forest resource, it is a big part of Quebec's history and heritage. When it comes to Chantiers Chibougamau, we constantly strive to improve our wood product processes to better serve the construction market.